This is another of the first "jobs" of the new era: we wanted something that would allow us to caress the skin in a different way. And this wonderful creation emerged: a mitten with delicate stainless steel spikes mounted on a piece of cowhide on one side and plain leather on the other.
Hand sewn with 1 mm thread and quadruple stitches to ensure that the edges of the mitten cannot be opened and are completely matted. It has enough flexibility but just the right degree of rigidity so that it does not deform.
It has a strap that adjusts it to the wrist so you don't have to worry about the support and focus on what really matters. It is very comfortable to use and creates incredible sensations… and not all of them painful.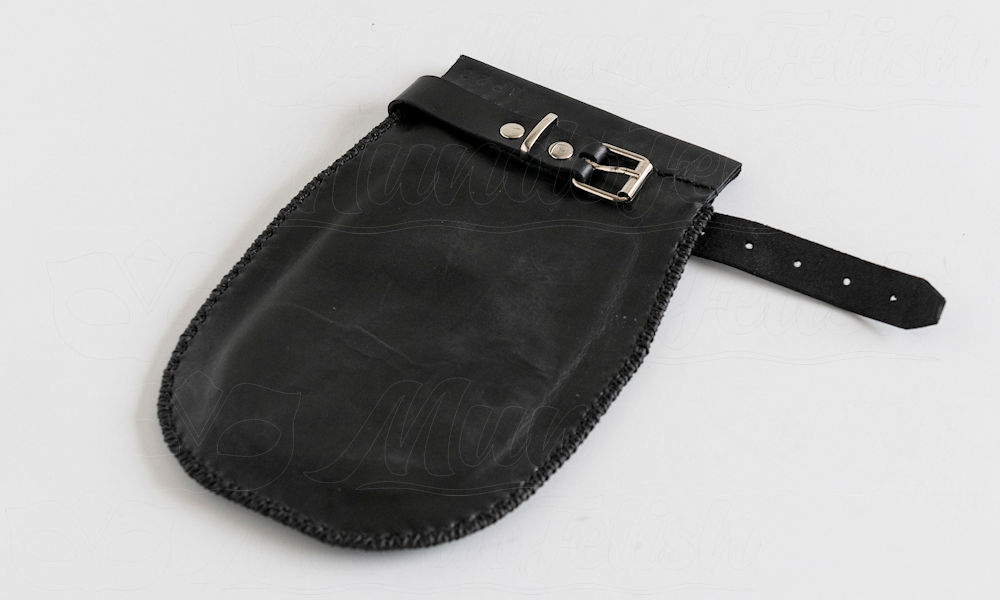 The weight of the one shown in the image is 150 gr., the total length is 25 cm. and hands from S to XL can use it without problems.
Its effect is threefold:
The first effect is the sensation that the spikes produce when you caress the skin with them: guaranteed chills.
Worn on the face without spikes it is a normal leather mitten and its only purpose is to take care of the spanker's hand.
Finally, the side of the spikes depends on the force applied and the length of the spike requested. From a caress if you rub your skin to a hard session if you hit it. If the impact is medium it will leave the stitches marked and if more force is applied it can break the epidermis in a very superficial way. If you are brutal, there you have your limits.
The spikes can protrude 2 or 5 mm, the one shown is 2 mm. Out of personal responsibility, we do not do anything above these measures because it could become dangerous (if we are not able to use it, we do not do it).
Use it with your head (not on your head) and remember that everything that can pierce the skin has to be perfectly disinfected before and after use. Use chlorhexidine, vinegar or whatever disinfectant you normally use and don't forget that the sun is one of the best disinfectants there is.
Logo or name with studs. Spike length 2/5 mm.
Approx. 3 weeks from design
Tell us how you want it and we will prepare a personalized proposal. If you wish, you can contact us by phone, WhatsApp or email.